DREAM
MORE SOUND, MORE WORDS, MORE PERSONAL
WIDEX DREAM allows more sound in than any other hearing aid so you can hear more details of the world around you - and in a way that's as true-to-life as technology allows. Even in noisy environments such as parties, sporting events or at the cinema. And thanks to unique technology that preserves the human voice, you can also hear more words - for instance, enjoy conversations, even in the noise of a crowded restaurant or at a concert hall.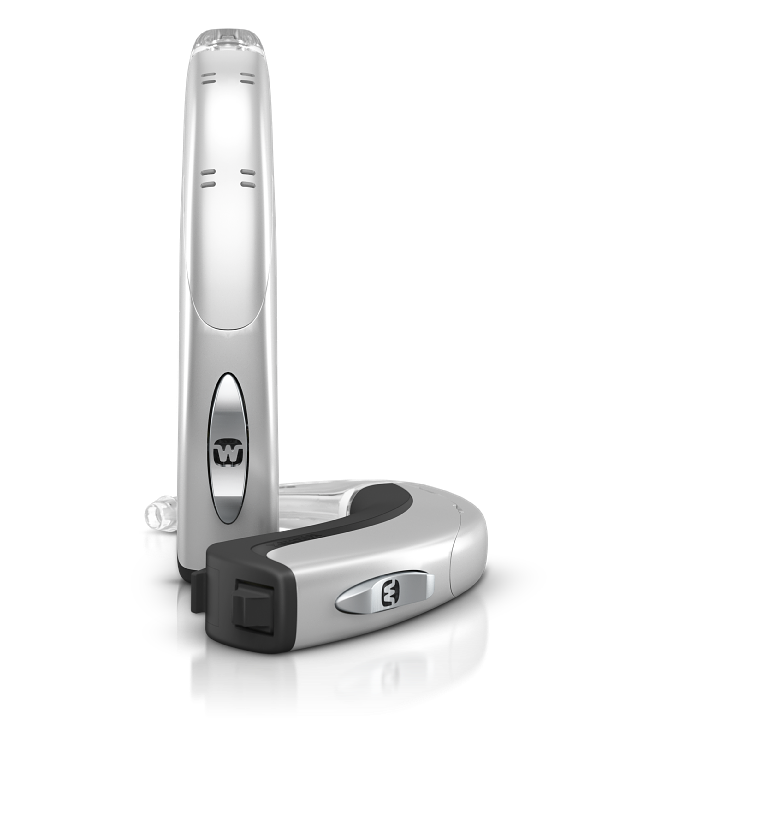 DREAM is also more personal, with the exclusive MY.WIDEX.COM, a personalised Website to help you get the most from your DREAM hearing aids. DREAM is available in a wide range of models including the new Behind-the-ear model FASHION.
More detailed sound
With DREAM, it's the details that count. You get a rich, well-rounded sound so you can experience the whole world around you. You can even enjoy louder sounds with complete comfort, such as the cheering of a crowd at a football game or the sudden sound changes when watching a movie.
More words and clearer speech
Thanks to new technology that preserves the human voice, you can actively enjoy conversations. So from a crowded restaurant to a noisy concert, DREAM helps you follow the conversation,
Your own Website
DREAM gives you access to your own Website that contains information unique to your specific hearing aids and hearing loss. See your personal audiogram, hearing programmes and features, tips and advice for handling your hearing aids, and instructional videos and testimonials from other hearing aid wearers.
Manage your Tinnitus
DREAM features Personal Zen - a proven program that can help manage Tinnitus, or ringing in the ears. It can be customised by us to completely suit your needs.
Hear high-frequency sounds
With DREAM, high-pitched sounds like bird songs or certain speech sounds, can be automatically moved down to regions where you can hear them more clearly. Allowing you to hear those high frequency sounds you have been missing.
Enjoy TV, music or calls on your mobile phone
DREAM can be easily combined with the DEX assistive listening devices, so you can enjoy watching echo-free television, listening to music or using your mobile phone - all completely wirelessly. You can also easily connect to FM streaming or land line telephones with crystal clear sound streaming directly to your hearing aids.
Excellent battery life
DREAM uses up to 20 percent less power with the new PowerSaver technology from Widex. That means the battery needs to be replaced less often.
A DREAM for every wearer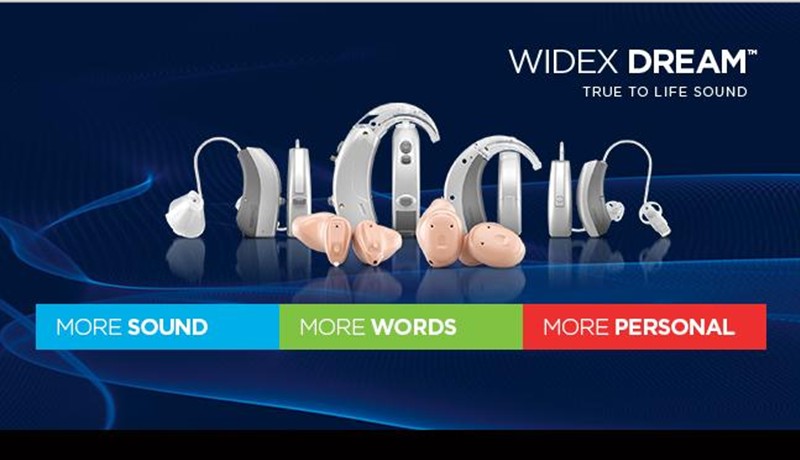 DREAM is available in four Behind-the-ear models and several In-the-ear models - including the nearly invisible CIC. So choosing the perfect DREAM for your needs and preferences is easy.
The SUPER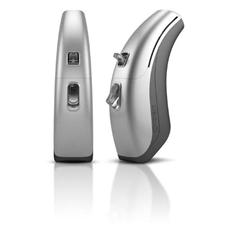 The power to hear
Small, comfortable and versatile - WIDEX SUPER introduces RITE (Receiver In The Ear) technology to the super power segment for the first time. Allowing users with profound hearing loss to choose a more discrete hearing aid.
Completely wireless, the Super offers the connection to the devices you love.
SUPER:
has the power to provide loudness
has the gain for speech understanding
has no feedback/doesn't whistle
has a long battery life
is made for all day, everyday use
has a robust and stylish design
gives you the choice of two receivers, for either moderate to severe or severe to profound hearing loss, plus various ear-tips and earmolds.
This versatile model is packed with InterEar features for better localization.
The power to hear
Despite the small-size design SUPER is an extremely powerful hearing aid. SUPER concentrates on audibility – giving you access to sounds that you may not have heard before. For example the Audibility Extender moves high-pitched sounds such as birds chirping and children's voices down to where you can hear them. And a 675 battery means more power for up to 3 weeks' usage.
All day, all weather
SUPER is reliable and user-friendly for all weather and all day use. The clever design makes it weather-resistant, while wind noise is reduced by up to 18 dB.
Hear sound from everywhere
Determining the direction of sound is a common problem among hearing aid users.
SUPER can help you determine where sounds are coming from; for those who have difficulty orientating themselves when wearing a traditional BTE hearing aid, this is great news.
Music, television and phone calls
By combining SUPER with the DEX assistive listening devices, you can enjoy watching TV, listening to music or using your cell phone - all completely wirelessly and without any delay.
DEX assistive listening devices
With the DEX™ assistive listening devices from Widex it becomes easy for you to communicate with your:
PHONE
TV
REMOTE CONTROL
OTHER EXTERNAL AUDIO DEVICES
?UNI-DEX For plug and play mobile phone use and direct audio output devices

The all new UNI-DEX is extremely easy to use. Simply plug the mini-jack cable into your mobile phone or audio device, hang the UNI-DEX around your neck, and you are ready to go.
MADE FOR ALL PHONES
The UNI-DEX is a neck-worn plug and play solution for easy mobile phone use. The device streams audio to your hearing aids - not just from mobiles, but any device with a mini-jack output.

Its long battery life means that UNI-DEX can stream for up to 40 hours. And it takes only an hour to fully recharge again.

Enjoy talking hands-free on your mobile phone or stream audio from your favourite device like an iPod, iPad etc.
EASY AUDIO STREAMING
The UNI-DEX is easy to use. Simply plug the mini-jack cable into your mobile phone or audio device, hang the UNI-DEX around your neck and you are ready to start listening. Streaming starts automatically.You can use the built-in microphone in UNI-DEX when using a mobile or Skype via PC or tablet.
The built-in microphone in UNI-DEX allows you to talk hands-free while driving. You can also use the UNI-DEX with your personal favorite audio device, as long as it has a mini-jack output.
THE BENEFITS OF UNI-DEX
Phone compatibility - Works with most phones
Hands-free – functions like a headset
Incredibly stable – does not disconnect
Long battery life – can stream for up to 40 hours
Easy to use – just plug it in and it's ready to start streaming
The unique Room Off feature lets you temporarily turn off the hearing aid microphone and concentrate on the conversation.
M-DEX For your cell phone
M-DEX offers wireless connectivity between hearing aids and a mobile phone, practically turning the hearing aids into wireless headsets.
Compatible with most cell phones, the M-DEX reproduces phone conversations directly in your hearing aid.
Room Off: A unique feature of the M-DEX is what we call 'Room Off'. This turns the hearing aids' microphones off temporarily so you can only hear your cell phone - allowing you to concentrate on the conversation without being disturbed by surrounding sounds.
Remote control: The M-DEX can also be used as an advanced remote control for volume and program shift.
FreeFocus: M-DEX can also be used in FreeFocus mode. FreeFocus lets you focus in selected directions, such as left, right and behind, without having to turn your head.
TV-DEX For enjoying TV

With the TV-DEX you can enjoy distortion-free wireless transmission of TV sound directly to your hearing aids.
Watching television can sometimes be a challenge for hearing aid users. With our TV-DEX, high quality audio is streamed with no delay straight to your hearing aid.
No delays or echoes: The main advantage of the TV-DEX is its real time hi-fi quality sound. You experience TV or audio sound exactly as it was intended - without annoying delays or echoes.
Room Off: With the TV-DEX you can temporarily switch the hearing aid's microphone off and hear the TV sound only - we call this 'Room Off' - meaning you can enjoy your favorite TV program without unnecessary background noise.
10 hours battery: The TV-DEX delivers up to 10 hours of uninterrupted, top quality TV or audio sound between recharging of controller.
RC-DEX Your remote controlRC-DEX is designed for basic wireless remote control of the hearing aids.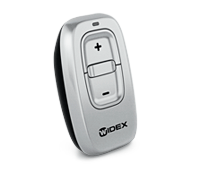 The RC-DEX is a stylish and user-friendly remote control that gives you control of hearing aid functions like volume and programs.

Intuitive in use: Small enough to fit on a keychain, the RC-DEX is intelligently laid out with three simple keys. This means that you can quickly and easily start using it.

Feature activation: As features are activated, verbal or tone cues let you know. An LED indicator on the remote control also shows when it is activated.
T-DEX For bluetooth mobile phone

?T-DEX gives you easy connection with mobile phones. For use with all Widex hearing aids with a telecoil.
The T-DEX is a hands-free, wireless neck loop for use with all hearing aids with a telecoil. It lets you easily connect with Bluetooth mobile phones.

Simply place the T-DEX around your neck and then activate it when your phone rings. The sound is transmitted wirelessly to your hearing aids so you can hear and converse directly.
Because it amplifies the sound from your mobile phone, the T-DEX is ideal in situations where there is a lot of background noise.
Its hands-free operation means that it is easy to talk on your phone while driving for example.
The T-DEX is compatible with all Widex hearings aids with telecoil.
All DEX devices are compatible with DREAM and Clear hearing aids.
Looking For A Comprehensive Hearing Care Service With Clear Pricing?