By Rachel Lapham on 13th May 2017
Resound Introduces New Made For iPhone Hearing Aids
Resound had been quiet with innovations in the Made For iPhone sphere for a long time after the introduction of the Linx2. However, they have finally updated their range with the release of the LiNX 3D. The new platform appears outstanding and of course has some real groundbreaking features. Let's take a look at what is on offer.
Resound
LiNX 3D Hearing Aids
The Latest Made For iPhone Hearing Aid Platform
The Resound Linx 3D hearing aids are the brand new range of Made For iPhone hearing aid technology from GN Resound. They offer the very latest Resound technology and features and will deliver outstanding results for people with hearing loss even in very complex sound situations. Aong with the launch of this platform, they have launched something completely new and innovative in the provision of ongoing care. The original ReSound LiNX allowed users to adjust their own settings as they went to a certain extent. They can now do taht and more, with the new LiNX 3D, they can request assistance wherever they are directly from their mobile app, and their hearing professional can make all the adjustments necessary remotely. Let's take a high level view of the Resound LiNX 3D range
The ReSound LiNX 3D includes GN Hearing's 5th generation 2.4 GHz wireless technology and 3rd generation binaural directionality. They say it will provide users with "clear, natural sound, exceptional speech understanding and the best sense of where sounds are coming from." There are eleven different hearing aid models in three levels of technology.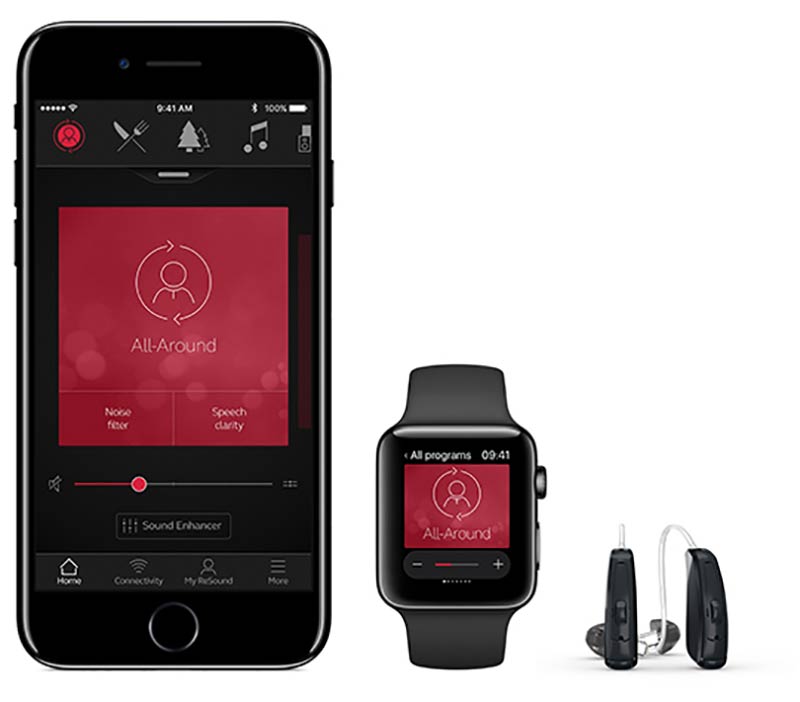 It is up to 50% better at identifying speech across various environments
It enables users to hear up to 80% more of the sounds around them, and
It enables users to understand up to 40% more speech in noise
When connected to the brand new apps that have been designed for iPhone and Apple Watch, users will be able to access custom control features for the hearing aid. There is also built-in guidance steps to understand both the hearing aids and the software, there is also coaching assistance to get the most out of the hearing aids. When compared to competitors, the company said that the ReSound LiNX 3D and companion app are up to 50 percent better at identifying speech across various environments, enable users to hear up to 80 percent more of the sounds around them, and enable users to understand up to 40 percent more speech in noise.
Linx 3D Features
The overall feature set of the LiNX 3D technology levels is as follows, each hearing aid may not have the full range of features here as the features are both model specific and technology level specific.
17 channels

Environment Optimiser

Binaural Directionality II

Spatial Sense

Directional Mix Processor

Adjustable Directional Mix

Natural Directionality II

Synchronised Soft Switching

Autoscope Adaptive Directionality

Binaural Environmental Optimizer II

Noise Tracker II

Low Frequency Boost

Amplification Strategies (WDRC, Semi-linear, Linear)
Expansion

Sound Shaper

DFS Ultra III with Music Mode

Auto DFS

Acceptance Manager

Tinnitus Sound Generator

Ear To Ear Communication

Direct Audio Streaming (Made For iPhone)

Compatible with all Resound Wireless Accessories like the Micro Mic, Multi Mic etc.

Resound Control App (if you have a Phone Clip+)

Resound Smart 3D App

Compatible with Resound Remote Assist

Will take remote hearing aid updates
The early feedback from early adopters is that the hearing aids are outstanding. The new system to offer remote assistance also seems to work very well for the people who would like to use it. If you have any questions about hearing aids or hearing loss, or you would like a hearing test on the Isle of Man, why don't you give us a call on 830722 or book your appointment online now.
Looking For A Comprehensive Hearing Care Service With Clear Pricing?