The North Platform From Unitron
The new hearing aid platform from Unitron

Unitron, recently announced the launch of North™, its newest ground-breaking sound processing platform that can distinguish between different types of conversation. We attended the launch and we were impressed with what we saw.
North's new SoundNav™ technology automatically identifies and classifies seven distinct sound environments. Four of them are focused specifically on conversation. This allows the hearing aids to focus even more on delivering clear conversation in different sound environments.
Clear Conversation in Every Situation
We know that conversations don't just occur in quiet situations nor in simple noise. Background noise can vary greatly depending on whether the listener is in small groups, at large events, in the car or on the street. The technologies in the new North platform work together in harmony so that users experience the best speech understanding along with natural sound quality, in the widest variety of situations. Even better, it all happens automatically.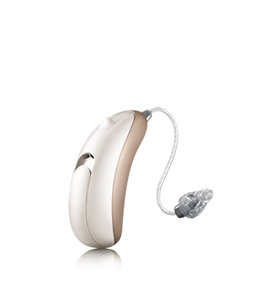 New Hearing Instrument Design
Along with the launch of the North platform, Unitron has introduced a new generation of its popular receiver-in-canal (RIC) Moxi™ hearing instruments. The all-new Moxi Fit™ continues the design principles used to deliver the Moxi design. It has a fluid new look, giving users the perfect combination of style and functionality. The aid is powered by a 312 battery, it also has a push button and telecoil.
The bigger battery gives longer life between battery changes and the loop and push button give real power to the user over control and connectivity. We sometimes forget that the loop was the first wireless technology and still has huge benefits for hearing aid users.
Unitron though, has kept this clearly in mind when designing this fantastic new product. Moxi Fit joins Moxi Kiss™ and Moxi Dura™, all available in five technology levels and all built on the North platform.
The new Moxi hearing instruments on the North platform are fully integrated with Unitron's industry-leading Flex:trial™ program, which allows us to send patients home with free trial hearing instruments, and Flex:upgrade™, which facilitates in-clinic technology upgrades as hearing needs change.
New Logging Feature
Unitron have also introduced Log It All™, an industry first data logging feature that captures and displays a user's experiences with their hearing instruments. It does this across seven environments regardless of the technology level of the hearing aid that has been fitted.
This gives us the ability to measure the performance of hearing instruments in everyday use, as well as during trial and upgrade situations. It helps us explain the benefits of different technology levels in a personal way. It also allows us to deliver fine tuning in a more focused way.
All in all we were pretty impressed by the new North platform and its RIC devices. We have had excellent results with the North hearing aids we have fitted so far. We are looking forward to the launch of the full line of hearing aids including the power hearing aid powered by the North Platform.
North™ brings patients closer to natural hearing and addresses their number-one desire: understanding conversations in a wide range of situations
If You would like to experience the new North hearing aids, call us on 01624 830722 or book your appointment online below
Looking For A Comprehensive Hearing Care Service With Clear Pricing?