Oticon Introduces New More Powerful Hearing Aid Platform
Oticon Increases Processing Power of BrainHearing Technologies with new Inium Sense Platform
New hearing aid range delivers up to 20% better soft speech understanding.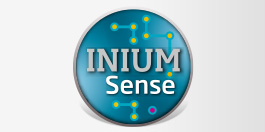 Oticon's new Inium Sense platform brings improved processing power to BrainHearing™ technologies for better performance and improved personalization. Oticon has introduced the Alta2, Nera2 and Ria2 hearing aids ranges, the latest hearing solutions in the Performance Line families and the first to be powered by Oticon's new Inium Sense Platform. The new even more sophisticated sound processor increases the processing power of Oticon's proven BrainHearing™ technologies by 30% to deliver the purest possible sound signal for the brain to decode.
They say the result is a more natural listening experience with less effort. Alta2, Nera2 and Ria2, are available in a wide range of styles including a smaller design for Oticon's popular minRITE style. RITE and miniRITE styles can also now be fit with a more powerful Receiver Mould option, which increases the fitting range of these more discreet styles to meet the needs of more patients.

Better Soft Speech Intelligibility & A Tinnitus Feature
Oticon have also focused on soft sounds in speech to boost intelligibility by making words clear. The powerful Inium Sense feedback shield and Voice Aligned Compression (VAC+) with Soft Speech Booster gives up to 20% improvement in soft speech understanding. It also delivers and enhanced ability to hear soft speech without having to turn the volume up. The Alta2 Pro, Nera2 Pro and Ria2 Pro are also available with Oticon's new Tinnitus SoundSupport™. The new tinnitus relief feature is available in select Performance Line solutions in order that a hearing aid audiologist can provide a personalised solution for patients living with the effects of tinnitus. Tinnitus SoundSupport™ has been developed to meet day to day tinnitus management goals.
What Oticon Had To Say
Better performance, improved personalization, more satisfaction
Inium Sense introduces a range of next generation BrainHearing technology benefits. The new Voice Aligned Compression (VAC+) fitting rationale with Soft Speech Booster is focused on and improves the audibility of soft sounds. This allows a much fuller understanding and clarity in speech. Inium Sense solutions also factor in more patient sound preferences, such as soft sound perception, to provide a better, more personalized first-time fit. This allows less fine-tuning to facilitate patient acceptance and long-term satisfaction with the hearing aids.
The integrated Tinnitus SoundSupport with user-friendly fitting software enables hearing aid audiologists to customise settings to a patients' needs. The system comes with built-in ocean and broadband sounds that help ease the effects of tinnitus. More sounds can be accessed through the new Oticon Tinnitus App, available as a free download on the App Store. Oticon also offers hearing aid audiologists counselling and support toolsto help in tinnitus treatment management.
New Hearing Aid Styles
The Alta2, Nera2 and Ria2 hearing aids are available in styles and price points to suit a wide range of needs and preferences. Oticon have introduced a new miniRITE style which features a more compact and discreet design with an easy-to-feel push button. As before, all BTE and RITE style devices in the hearing aid families are designed to withstand active lifestyles and are IP58 classified, demonstrating a high degree of water resistance.
Looking For A Comprehensive Hearing Care Service With Clear Pricing?