By Rachel Lapham on 20th November 2016
Widex and Oticon Introduce Made For iPhone Hearing aids
Both Widex and Oticon have introduced hearing aids that have Made For iPhone technology on board. That is now four hearing aid manufacturers who offer Made For iPhone hearing devices. Although, GN Resound is still the only manufacturer to offer a full range of devices including custom in ear hearing aids. Let's take a look at the two new hearing instrument ranges
Widex
Beyond Hearing Aids
So what do we know about the Beyond? It is a Fusion device based on the Unique technology, it also has three radios onboard, the one for Widex Link, a telecoil and the new radio for direct iPhone connection making it possible to stream music and conduct phone calls directly to the hearing aid without any intermediary device. Widex Products are famous for their sound quality, and now it seems that they are bringing that sound quality to Made for iPhone technology.
The Beyond App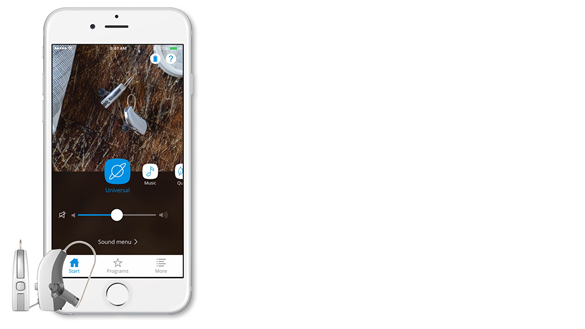 User Fine Tuning?
The Beyond app seems to have the usual features, you can set geo locations for different sound programmes and make changes to how the hearing aids are working on the go. However, there also seems to be an element of self fine tuning on the app, whereby users can change the frequency response of the hearing aids. They are calling this feature the Preference Control and it seems to break down frequencies into three bands, Bass, Middle and Treble. It is interesting to see manufacturers begin to hand over this type of control to users.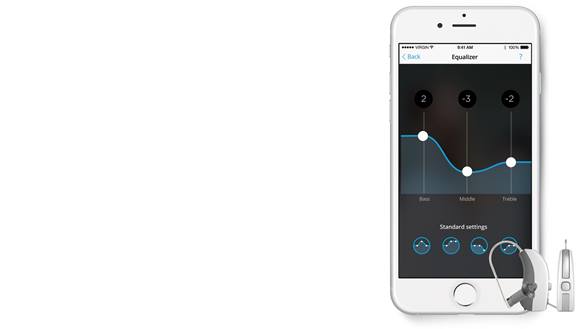 The Beyond at present appears to be only a Fusion type hearing aid, however, it will be interesting to see how and if Widex expand the range. It is a little unusual that Widex has just delivered one device as opposed to a full range. However, it appears that they have introduced the Beyond as part of their Unique hearing aid range and not as a stand alone range. The Beyond is available in the 440, 330, 220 and 110 levels of technology.
Oticon Opn
Oticon's Latest Most Advanced Premium Solution
Oticon have just introduced a new ground breaking hearing device range that falls within the Made For iPhone category. They are so small they are practically invisible and come in a range of shades and bright colours. The internet-enabled Oticon Opn comes with a number of additional features because it can connect to devices via the internet and Bluetooth. The hearing aids will connect directly to your Smartphone so you can make phone calls and listen to music without any intermediate streaming device. They are also water resistant to 1m.
The devices can be connected to any device that has a Bluetooth connection. This means that the hearing aids can also be connected to things like doorbells, appliances, or even baby monitors. Then when the doorbell rings, for example, the person gets a small 'ring' in their ear to let them know.
Open Up A Closed World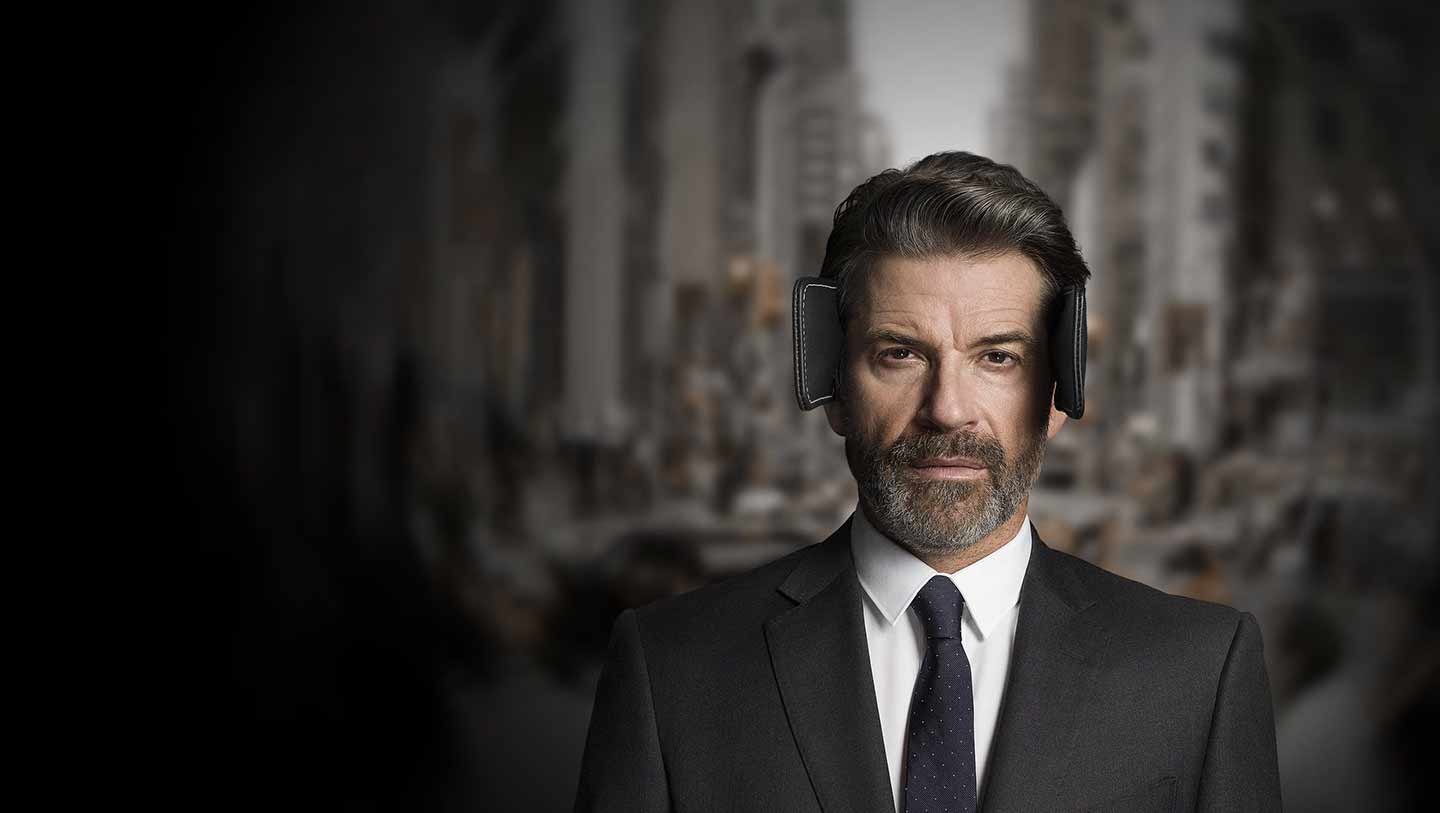 20%
Less listening effort – reducing the load on the brain in noisy environments
20%
More capacity to remember – freeing up mental resources, enabling the user to recall more in noisy environments
30%
Better speech understanding – even in the most noisy environments, without suppressing surrounding sounds through narrow directionality
OpenSound Navigator
Less stress. Remember more. Better hearing.
Oticon Opn™ introduces groundbreaking technology that is fast enough to support the brain. With precision and accuracy it analyzes the acoustic environment and differentiates between the individual sounds. The result is a significant improvement in the ability to understand speech in complex environments while, at the same time, preserving mental energy – ultimately empowering users to Open Up to the World. Users are provided with more accurate information making it easier to locate and separate sound sources so they can focus on what they find important. This happens so quickly it facilitates the listener's ability to change focus when desired.
This is the premium hearing aid in Oticon's range which uses their new Velox Sense processing chip. This range is a completely new way of processing sound and is suitable for more demanding listening environments.
Oticon Opn is available in a compact, newly designed miniRITE that sits discreetly on the ear. Oticon Opn offers a wealth of new features and functionalities all incorporated in a sleek and modern 312 battery-based design. The Opn is available in a range of colours.
Oticon Opn Mini RITE: wireless slimline 'Mini-Receiver-In-Ear (miniRITE)' hearing aid using a 312 battery
Oticon On App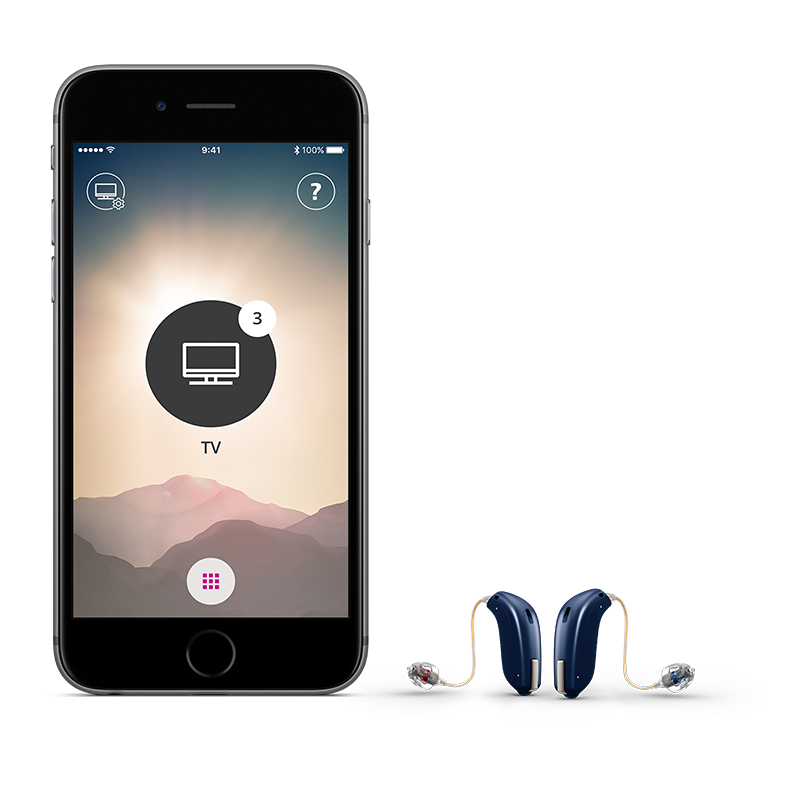 The Oticon ON app lets you adjust volume, switch programs and check the battery level. The app also offers convenient 'find my hearing aid' search feature, counseling advice and links to user instructions. The app is also where the connection to the IFTTT network happens.
A World of Possibilities
Oticon Opn is the world's first hearing aid that connects to the internet via the If This Then That network (IFTTT.com)
If you want your lights to turn on automatically when you switch your hearing aids on or want to be notified by your hearing aids that someone is at your door then these are a few of the limitless possiblities available using ifttt. Oticon have introduced their own recipes that can be easily downloaded, however, it is easy to make new recipes for action. The feedback we have heard about the new Opn hearing aids is outstanding.
If you have any questions about hearing aids or hearing loss, or you would like a hearing test on the Isle of Man, why don't you give us a call on 830722 or book your appointment online now.
Looking For A Comprehensive Hearing Care Service With Clear Pricing?